Newbury Shutters - Styles for Plantation Shutters
Full Height Shutters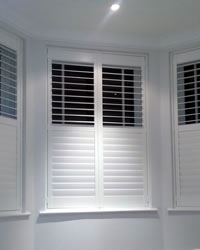 Full height shutter panels, as the name suggests are as high as the window or door opening. They may have louvres for the whole height of the panel without interruption, or alternatively have one or more mid rails as illustrated. The benefit of mid rails is that they allow the "banks" of shutters to be operated independently.
Café Style Shutters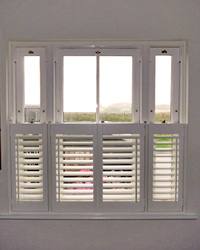 Cafe height shutter panels are panels which do not come to the top of the window or door opening. These are an ideal compromise in situations where there is not a lot of ambient light entering the window, so it is necessary to keep the opening as obstruction free as possible, but privacy is required. This configuration is very popular in ground floor windows which directly face a road.
Tier-on-Tier Shutters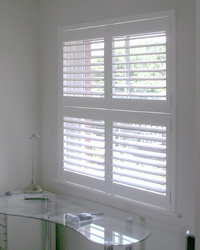 Tier on tier is where top and bottom panels are separate in the same frame, therefore allowing the panels to operate independently of each other. What this means in practice is that it is possible for example to have the bottom panels completely closed for privacy while the top panels are folded back to allow in the maximum light. We only recommend these in certain circumstances.
Solid Panel Shutters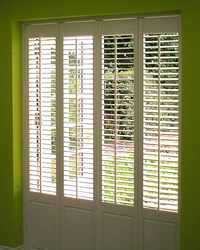 Solid panels may be used to give that Mediterranean look to a window or add a touch of style to a door.  It is also possible to have a combination of solid and louvred panels in order to match a shutter door to an existing half glazed door.

(Solid panels only available in Basswood and Cedarwood and Pearlwood)
Louvre Sizes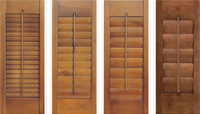 Different Louvre sizes are available to suit different styles to match your home.